Religious Brothers Conference
43rd Annual RBC Assembly 
July 18 – 21, 2014 in New Orleans
Registration is now open
To register online click
HERE.
To register by phone and pay by check call NIX Conference Management at 1-800-266-0866.
The RBC was founded as NARB (National Assembly of Religious Brothers) in 1972 and remains the only service organization devoted exclusively to promoting the vocation of the religious Brother. The RBC began as a project of the Brother's Group of the Mission Secretariat in 1962. 



Feedback on the development of our site is welcome! If you have suggestions or ideas regarding content, or if you have photos or resources you would like to share with other Brothers, please email: RBC@todaysbrother.com
Thanks for visiting us!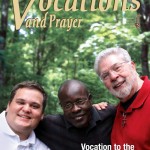 Rogationists focus on Brother vocations in their new issue of Vocations and Prayer
     Vocations and Prayer Magazine
     Rogationist Publications
     6635 Tobias Ave., Van Nuys, CA 91405